Quick Deploy Microwave Antennas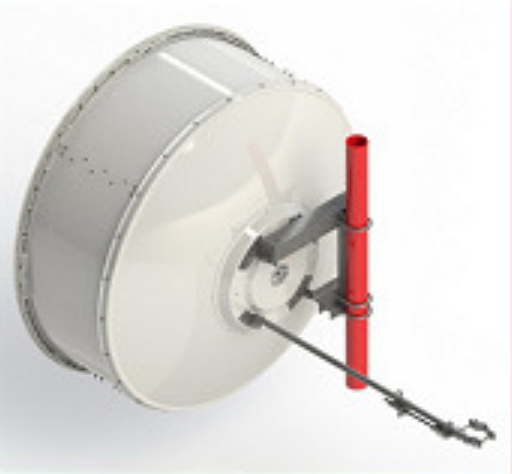 Primus introduces Commscope's Quick Deploy, the factory pre-assembled, class 3 microwave antenna available in 3, 4, and 6 foot diameters, which greatly reduce field installation time and get your networks online quicker.
How does quick Deploy help solve problems the end user faces?
ValuLine antennas provide a robust, cost effective solution for the majority of short haul applications The VHLP(X) antennas have good side lobe performance, meeting most regulatory standards.
What does it do?

Fully assembled antennas reduce assembly time in the field. Installers now can unpack the antenna and be ready to hoist it up the tower in less than 15 minutes!
What problems does it solve for the customer?
Carriers and end users are in a "time crunch" to complete their network builds.
Revenue Stream:
Activating a path quickly allows the carriers to start the revenue stream. Sooner the path is turned on, sooner carriers can collect revenue.
Ease of mind:
Microwave assembly and installation is a specialized field. Using Quick Deploy antennas, end users can rest easy knowing the antenna has been assembled by a qualified technician in the factory in which it has been manufactured.
Cost:
Installation time is greatly reduced so tower crew costs are less. Installation companies time is reduced so they can install more sites in less time, increasing their profits margins.
Key Differentiators:
• Product – Our ValuLine antennas are a high quality, robust product, fully compliant to all declared regulatory compliances.
• Support - VHLP(X) antennas are available from our Reynosa Mexico (Mission, Texas) with fast deliveries. The fully assembled antennas carry our standard 3-year warranty.
• Company – CommScope is the number one supplier of microwave antennas in the mar ket. We have a global reputation in this market segment and have had for a long time (legacy Andrew Corp.)
• Finance – Our financial strength and depth means that CommScope is able to fully sup port the product over the long term.
Potential Customer Profiles:
Quick Deploy will be marketed to a wide range of customer types – essentially anyone using a microwave network.
Wireless Operators:
Microwave forms a critical part of the backhaul network.
Fixed Line Operators:
Microwave is widely used in the trunk network where fiber cannot be cost effectively deployed.
Private User Networks:
Utilities, Railroads, Mining Operations, Military all deploy microwave to provide connectivity between areas of operation.
Financial Services:
Microwave links offer lower latency than fiber. The milliseconds saved offer a substantial com- petitive advantage to customers operating high frequency share trading operation.
Emergency Services:
Microwave is used as part of safety critical infrastructure providing communications to first responders.
Radio OEMs:
Microwave Radio Manufacturers often sup- ply the complete system (radios + antennas) as a turnkey package to the end users listed above.
For more information contact Primus at 800-435-1636 or [email protected]