Mission Critical Reliability - Bird Signal Boosters UHF, 700, 800 MHz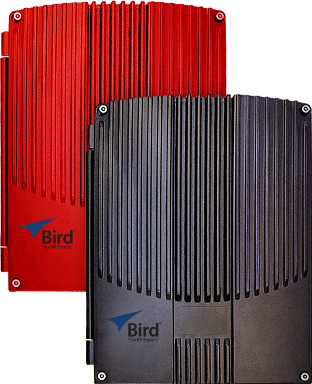 Equipped with advanced amplifier protection, the Signal Booster II+ from Bird provides Public Safety grade signal reliability and coverage in disadvantaged RF locations lacking in critical signal strength. Design innovations have delivered a light, compact design that provides more consistent and powerful signal coverage and amplification than ever before. New software capabilities provide critical local and remote status information allowing for real-time monitoring of critical systems. SBII+ is compatible with all Public Safety radio technologies including conventional analog, P25 standard, and FirstNet public safety LTE.
Features:
- The web browser user interface allows for local and network
configuration.
- Highly secure SNMP (v. 3.0) to send encrypted or in the clear system
status trap messages to an SNMP Manager.
- Easily perform remote firmware updates.
- Built in oscillation management and detection with multiple user
configurable choices.
- On board LED displays and remote OLC monitoring capability.
- Filtering is included to support most RF environments.
- Multiple power configurations: AC primary, DC primary or AC primary
with DC backup.
- NFPA/IFC option includes all the alarms and battery backup
configuration options to comply with the standards.
- Custom models available.
If you have any questions about Bird's Signal Boosters, contact a Primus Sales rep at 800-435-1636 or [email protected]