PS Enhanced eBDA series NRTL Listed to ANSI/UL Standard 2524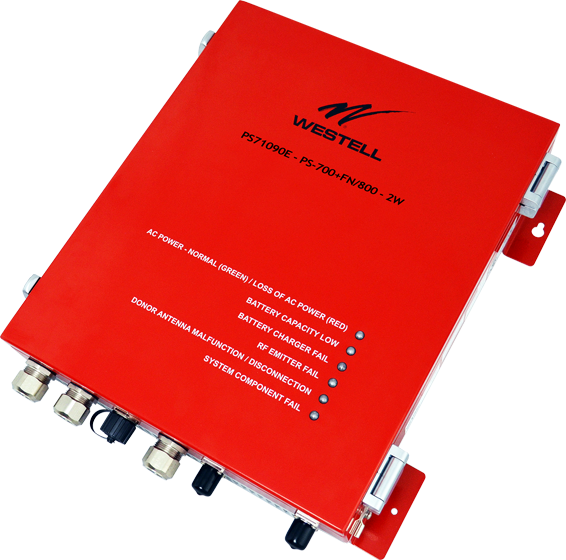 The latest addition to Westell's industry-leading in-building wireless solutions for public safety radio enhancement solves reliable indoor communications for our emergency responders, including Fire, Police, and EMS, caused by modern building materials blocking up to 99% of the RF signal from outdoor tower sites. Our NEW Enhanced eBDA series offers over a dozen new features to the previous PS Series of Class B signal boosters that improve ease of installation, provides an easier path to AHJ acceptance and reduces total installed cost.
These new Enhanced Class B eBDA series solutions are NRTL Listed to ANSI/ UL Standard 2524 (the new UL Standard for In-building 2-Way Emergency Radio Communication Enhancement Systems) and feature a Built-in Alarm Annunciator, Integrated Battery Backup, UpLink Squelch, Improved Cabinet Interface, Smallest footprint in the industry, Intelligent Oscillation Management and much more. Offered in both a ½ watt and 2 watt dual band 700-800MHz versions these BDAs are available now.
For more information on Westell's BDA please contact one of our Primus representatives at 800-435-1636 ir [email protected]
Product Highlights
-Supports Dual‐Band 700/800 MHz
-NFPA 72/1221 Compliant Class B Amplifier
-Power Output DL/UL

- dB Gain
-NRTL Listings: ANSI/UL 2524, UL 62368-1, UL 508A
-Built-in battery charging and alarm circuitry
-Redundant power supplies, operates on 110VAC or 24VDC
-Built-in Annunciator
-Uplink Squelch
-FirstNet Ready
-Low Power Consumption