The Power of Reliability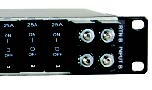 DC POWER DISTRIBUTION FOR WIRELESS COMMUNICATIONS
Intelligent Monitoring and Load Control Over Ethernet Helps Increase Uptime and Reduce Unnecessary Site Visits
Whether your need is for unmanaged, fully managed, single or dual bus, 12, 24 or 48 volts DC, positive or negative ground, ICT provides the most extensive range of intelligent solutions for distributing DC power to your critical loads. Increase your uptime, reduce site visits to power cycle a locked-up load, and reduce your operating costs. Designed and manufactured in North America.
Please read more in the ICT section of the Prime Connection Q4 Newsletter at
https://www.primuselectronics.com/news-events
.